Diversity & Inclusion
November 13, 2020
'Talking about racism isn't brain surgery — it's harder'
Viewpoints: Undoing systemic racism in the U.S. means replacing the paradigm that some people matter more than others and lifting up the vision of a human-centered nation, writes Liz La quen náay Medicine Crow, CEO of First Alaskans Institute.
Our monthly Viewpoints series invites guest authors from outside of Wells Fargo to share an important perspective related to their work. Today, we welcome Liz La quen náay Medicine Crow, CEO of First Alaskans Institute, a statewide Alaska Native nonprofit.
"You are going into the land of your Ancestors. Do not be afraid. They are waiting for you." These were the words my Kaach.ádi clan Elder, Kaanak Ruth Demmert (PDF), spoke to us as we began our eight-day yaakw (canoe) journey from Kéex' Kwáan, our community of Kake, to Juneau, Alaska. I had no idea what was going to happen, but I knew I needed to do it.
Growing up on our island, we are born with the spirit of our animals, forest, and oceans within us. I trusted our yaakw, our skippers, and our crew — and more than anything, I trusted the power of our homelands. Kaanak's words became a pathway for a healing I could only ever articulate systemically but not ground personally. I hadn't been able to confront the inner body of water that held so much collective, personal, and intergenerational duress. It was time for that internal excavating, the releasing of pains that no longer served my community.
Over the next eight days, pulling (paddling) our yaakw for eight to 14 hours a day, the ocean became my healer. Each stroke of the cedar paddle pulled out pain that I couldn't put words to before. At night, my Uncle Ká.oosh Mike Jackson instructed us, "When you go to sleep, your Ancestors will come to you in your dreams. Don't be afraid; let them in. During the day when you are pulling, and you can't pull any more, let your Ancestors take over." And at one point, they did.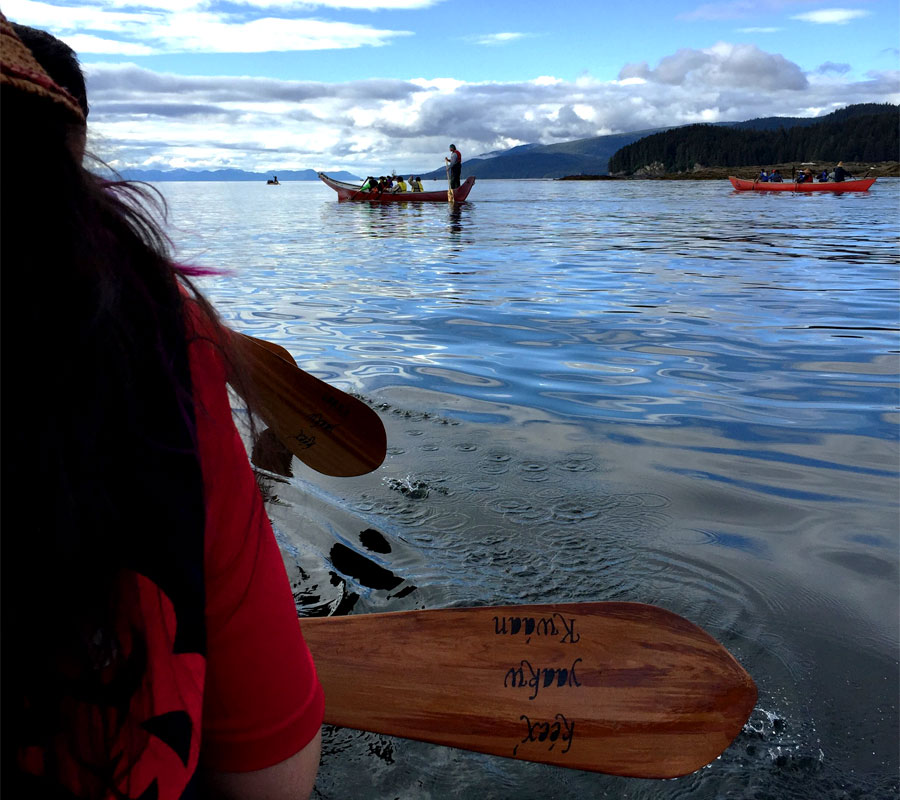 A wave broke inside of me. In those moments, I wasn't even aware that I was still pulling, still locked into the rhythm and steady slide of our yaakw. When I became conscious of the world around me, my face, neck, and collar were soaked, though there was no rain. It was as if what was inside had been pulled out, the way salt lances a wound. The profound healing from this journey is still one I am learning from today. It has made me so grateful and much more prepared to serve our peoples.
I share this story with you for a purpose. At First Alaskans Institute, we host difficult and uncomfortable dialogues on racism. A friend in this work likes to remind us that talking about racism isn't brain surgery — it's harder. Listening, talking about, and addressing personal, interpersonal, institutional, and systemic racism is hard. It is not made easier by ignoring it, placating it, prioritizing one aspect over the other, or performatively and topically applying it. Racism is insidious and clever. It has cloaked itself behind systems and processes in our society — and like anything threatened, it will fight like hell to protect itself. Being uncomfortable to address it head-on is a necessity.
Our words — our breath — is sacred, so when we speak about important things, it is critical to deeply listen. We see this embodied through a shared teaching of our Elders, who say, "We only talk to you like this because we love you. If we did not care, we would not say anything."
"Racism is insidious and clever. It has cloaked itself behind systems and processes in our society — and like anything threatened, it will fight like hell to protect itself."

Liz La quen náay Medicine Crow
When we need to do better, we are spoken to with truth — and while that may be uncomfortable, it is the most profound kind of love. These are the core principles we designed Advancing Native Dialogues on Racial Equity, or ANDORE, around. We center these discussions from a place of love — the deep, collective ancestral drive to make things better for our children.
ANDORE was co-created more than 13 years ago by a group of folks from across Alaska using our shared Native values to operationalize an approach centered on our people's wholeness and ancient understanding about human behavior — not from a place of hate, but from a place of healing. We meet people where they are at, focus on listening to each other, and honor that each person's experience is their truth. Then, we do that internal excavating that is needed in each of our lives, and together work on addressing the interpersonal, institutional, and systemic racism that is destroying the United States.
Before we pulled away from the dock, Kaanak reminded us that each of us was on our own journey inside our yaakw, each yaakw taking part in the pull to Juneau was on its own journey, and that all the yaakws from other villages were on the same journey together. This is what pulling for racial equity is about — you have to do your own work, the work of your whole crew, and the work of the collective effort. It is all happening at the same moment.
Since beginning this journey, we have hosted more than 25,000 Alaskans and others across the country in dialogues based on these principles. Is it a silver bullet for eradicating racism? No, but healing begins when we face it head-on. Healing requires dismantling a system that is working the way it was designed to. The pathway to racial healing that was laid out more than 13 years ago through ANDORE, and by our Elders long before that, has come to fruition. Now is the time to pull. Now is the time to open ourselves — our internal places of personal safety, work, worship, business, learning, camaraderie, and community — to the racial reckoning that has long been coming for our shores, and embrace it. Don't be afraid. We are waiting for you.