Small Business
October 12, 2023
Learn how Chef Merito cooked up multimillion-dollar success
The Los Angeles-based business started in 1985 and has grown into a nationally known brand of spices, marinades, and seasonings.
July 29, 1981, is a date Ambar Corugedo will never forget.
Alongside a worldwide audience of nearly 750 million people, Corugedo and her mother, Maria Garcia, watched Prince Charles and Princess Diana's wedding at St. Paul's Cathedral in London. She marveled at Diana's dress, the church's luxurious decorations, and the spectacle of an event transfixing the globe.
Her father, Plinio Garcia, had more pressing matters. Not yet a full-time chef, Garcia spent evenings in the family's Chatsworth, California, home diligently formulating, blending, and packaging new bags of spice blends.
"We kept getting distracted," Corugedo recalled. "We were like 'look at how beautiful she is.' And he would say 'chop, chop, come on. We've got to be ready to sell in the morning.'"
The trio sat in the family's living room — which also served as Garcia's testing area, operations hub, and distribution and marketing center — not knowing they were in the beginning days of creating a multimillion-dollar small business that would quickly become an industry standard.
Four years later, in 1985, Garcia quit his day job and founded Chef Merito — "the best chef." Today, Chef Merito is a nationally known brand with seasonings, marinades, adobos, breadings, batters, herbs, and spices in stores — big and small — across the United States.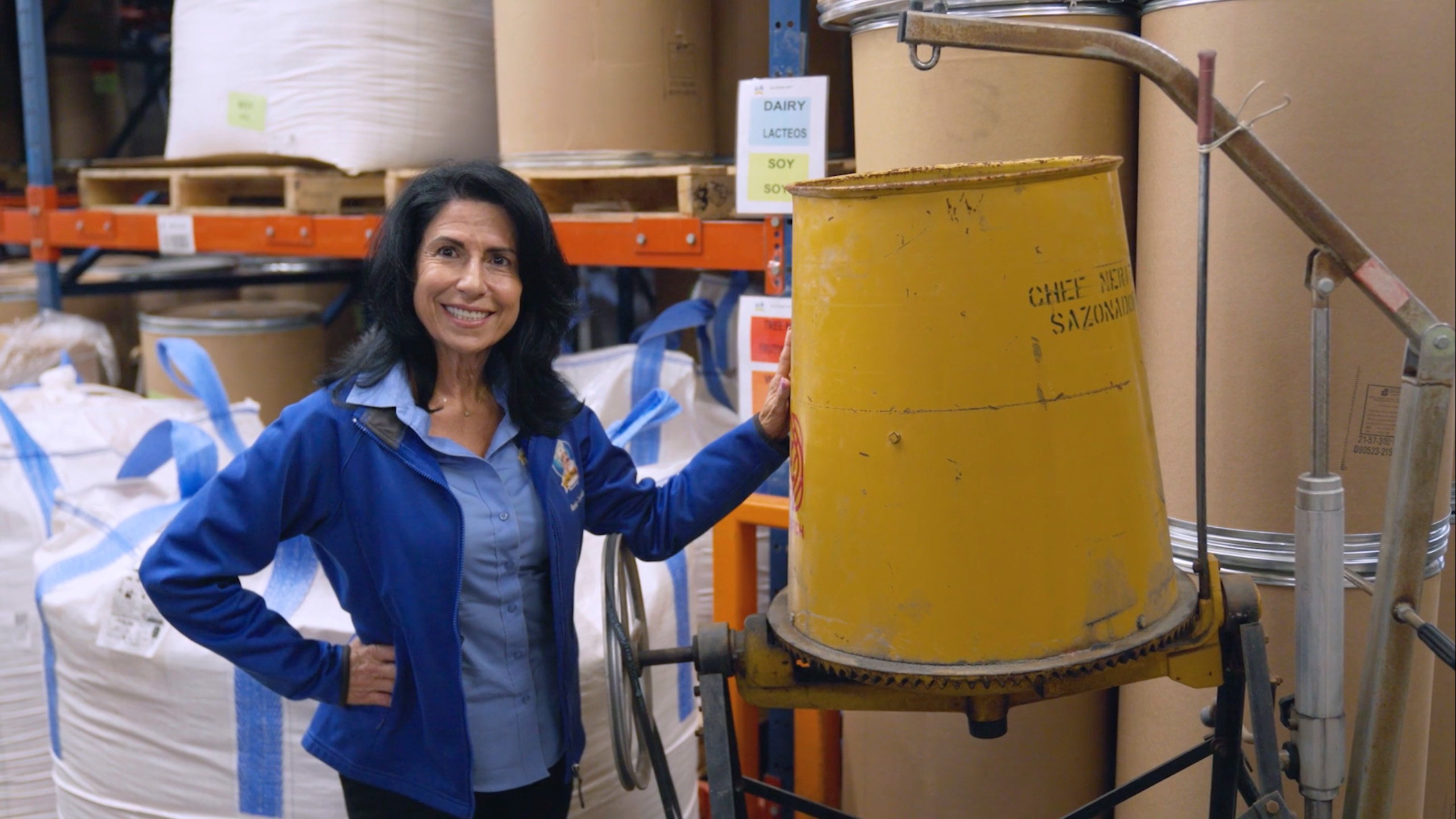 Corugedo fondly recalls sales trips in California with her father as he sought to merge passion and business.
"He'd pick me up in Ventura where I was working, and I'd take rides with him to carniceros and bodegas in North Hollywood, Santa Paula, and Ojai. Some of those areas were sort of Hispanic, but it was a good mix of all nationalities. He'd sometimes need my help to translate and get the product in the door," Corugedo said.
Garcia ran the company for 27 years, until his death in September 2012. Soon thereafter, Corugedo assumed day-to-day control of Chef Merito, though her knowledge of the enterprise was limited to a few departments because of its rapid growth.
What she did know were the things Garcia taught her during those long car rides.
"He'd always say to never underestimate the small mom-and-pop shops," Corugedo said. "Treat all your customers right, no matter how big or small. Especially as a Hispanic-owned business, he felt like we owed it to the carniceros and bodegas for being there for us when no one else was."
"Treat all your customers right, no matter how big or small."

Ambar Corugdeo, owner, Chef Merito
Corugedo's transition to leadership wasn't without challenges though. Entering a male-dominated industry as a Hispanic woman was no easy task, and required a steep learning curve.
"You just have to jump in and get your feet wet," Corugedo said. "It was difficult at first, because there was so much to deal with. One thing I learned is that what most stores care most about is if I move product for them. Figuring that out kind of impacted how we started marketing and promoting our product. If we could show the marinades and spices helped stores sell meat… that was good for our business."
One area Corugedo said she felt comfortable after taking over the company was banking. As Chef Merito grew from one employee to 15 to 20 to 50, Garcia wanted a strong, trustworthy commercial bank that would allow his company to grow.
"He always remembered the stagecoach," Corugedo said.
A Wells Fargo customer since the early 1990s, Corugedo has seen the bank deliver on not just payroll, lines of credit, and cash, but also on being a part of the Los Angeles community and Chef Merito.
"We have had good personal relationships, forget the banking, with many folks from Wells Fargo," she said. "They have made difficult things like night drops simple, and understood our need for more credit as we have expanded our business. But they've also been to our homes for barbecues … they were almost like customers. Wells Fargo has always been a great advocate of Chef Merito."
As the business continues to grow and expand, Corugedo is set on making sure Chef Merito never loses its flavor.
"I still have all his (Garcia's) formula books," she said. "He figured out how to create the perfect blend, and to give everything a two-year shelf life. It's his life's work and I'm so thankful I've been able to carry on this family tradition."