Financial Health
October 29, 2019
The challenge of retiring in the 21st century
With the demise of pensions and fears about the future of Social Security, Wells Fargo Asset Management's Fredrik Axsater explains how savers can navigate the challenges of preparing for retirement.
Preparing for retirement is a lot like training for a triathlon: It takes perseverance, conviction, an intense focus on the finish line, and the ability to adjust as conditions change.
According to findings from the Wells Fargo 2019 Retirement Study, many of today's workers are not preparing enough today for their retirement of tomorrow.
Part of the challenge is the changing nature of retirement. While the majority of current retirees fund their retirement with Social Security or a pension plan, the study finds most people in today's workforce plan to fund retirement with their own savings, such as a 401(k) or an IRA, since pensions largely aren't an option for them anymore.
In order for current workers to enjoy the 21st century retirement they want and deserve, they must learn to navigate challenges, adopt a planning mindset, and make course corrections along the way. Having the right tools, information, and guidance can help.
Navigating 21st century challenges
Retirement in the 20th century was much less complicated. In fact, most workers accumulated pension benefits until they turned 65. Today, workers recognize that retirement is increasingly their responsibility. Moreover, longer life expectancies create uncertainties when planning for retirement, as retirees don't know how long their nest egg will need to last. This is called "longevity risk," or the risk of outliving your assets.
Workers also increasingly feel stressed financially. Our study found that financial challenges like taking care of an adult child or parent negatively impact the ability of nearly half of workers to save as much as they would like to.
Individuals with student loans say the burden of their student loan payments and debt is getting in the way of retirement saving. Millennials, in particular, believe they have an "unmanageable amount of debt" that affects their ability to save, according to the survey. Add to that the fear many have that Social Security won't be around for them when they reach retirement age.
Adopting a planning mindset
Having a "planning mindset" is crucial to a strong financial future. According to the survey, people with a planning mindset have set or achieved a financial goal in the past six months, are working toward a long-term goal, have planned out their finances for the next 1-2 years, and prefer to save for retirement now instead of waiting until later.
Those who do start planning for retirement early experience many benefits. From our research, we know such retirement savers save more each month for retirement (71% vs. 53%), feel less financially stressed and more in control of their financial lives (82% vs. 46%), and are more confident about their ability to live comfortably in retirement (80% vs. 42%) than those without the planning mindset.
Once you have adopted a planning mindset, there are four key "rules of the road" for retirement planning to consider:
1. Save early. The sooner you begin to save, the more time the money you save has to grow.
2. Save enough. A consistent 15% preretirement contribution is needed in order to have a standard of living in retirement that is similar to the one enjoyed before, our research has found.
3. Diversify. Don't put all your eggs in one basket. Diversifying your investments across asset classes and maintaining a diversified portfolio may potentially help to reduce the risks of market volatility and loss to the overall portfolio.
4. Keep saving. Stay focused and avoid the lure — unless you have no other options — of doing things detrimental to retirement savings, like withdrawing your savings from one account when you change jobs or taking a loan from your 401(k) account. Understanding how these things may impact your overall savings can help you find solutions to stay on track with your retirement goals.
Small changes today could mean big results in the future
Course correcting when necessary and making small changes such as these can lead to a big difference in saving behavior and help build confidence for retirement: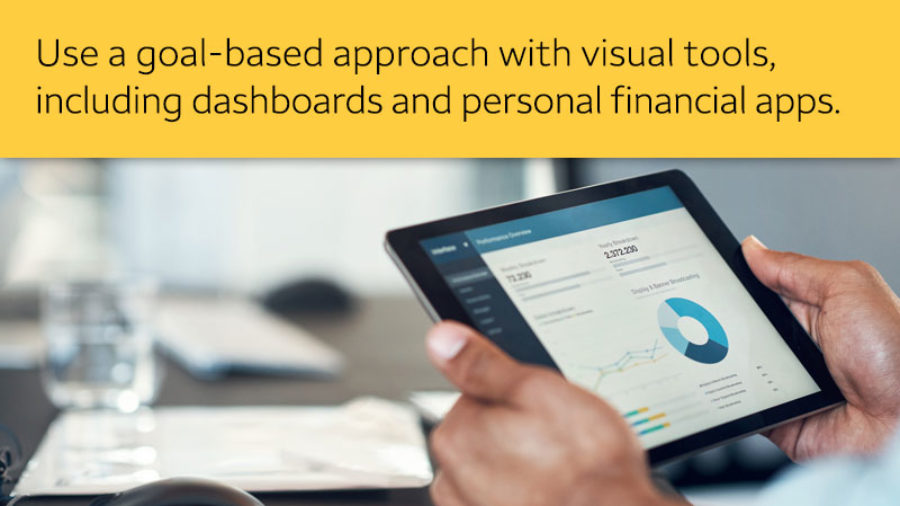 While we cannot predict the future, we can plan for the unexpected. Like triathlons, it takes time and practice to spend less and save more. In a time when many are living with an unmanageable amount of debt, it's important to stay on track when faced with financial challenges and continue planning and saving for retirement.
---
About The Harris Poll
The Harris Poll is one of the longest running surveys in the U.S. tracking public opinion, motivations, and social sentiment since 1963 that is now part of Harris Insights & Analytics, a global consulting and market research firm that delivers social intelligence for transformational times. We work with clients in three primary areas; building twenty-first-century corporate reputation, crafting brand strategy and performance tracking, and earning organic media through public relations research. Our mission is to provide insights and advisory to help leaders make the best decisions possible. To learn more, please visit www.theharrispoll.com.
About the Survey
On behalf of Wells Fargo, The Harris Poll conducted 3,918 online interviews of 2,708 working Americans 18-75 or older and 1,004 retired Americans, surveying attitudes and behaviors around planning, saving, and investing for retirement. In addition, 206 high-net-worth workers were interviewed (age 18-75, with household investable assets of $1 million or more). The survey was conducted from June 21 – July 17, 2019. Working Americans are age 18-75 or older and working full time (or at least 20 hours if they are working part time) or are self-employed. Retired Americans self-identified as retired regardless of age. Both working and retired Americans are the primary or joint financial decision-maker for their household. Data were weighted as needed to represent the population of those meeting the qualification criteria. Figures for education, age, gender, race, ethnicity, region, household income, investable assets, marital status, employment, number of adults in the household, and propensity to be online were weighted where necessary to bring them in line with their actual proportions in the population.
Disclosures
All investing involves risks including the possible loss of principal. There is no assurance any investment strategy will be successful or will meet its investment objectives. Investments fluctuate with changes in market and economic conditions and in different environments due to numerous factors, some of which may be unpredictable. Each asset class has its own risk and return characteristics.
Wells Fargo Wealth and Investment Management, a division within the Wells Fargo & Company enterprise, provides financial products and services through various bank and brokerage affiliates of Wells Fargo & Company. Wells Fargo Asset Management (WFAM) is the trade name for certain investment advisory/management firms owned by Wells Fargo & Company. These firms include but are not limited to Wells Capital Management Incorporated and Wells Fargo Funds Management, LLC. Certain products managed by WFAM entities are distributed by Wells Fargo Funds Distributor, LLC (a broker-dealer and Member FINRA).
This material is for general informational and educational purposes only and is NOT intended to provide investment advice or a recommendation of any kind—including a recommendation for any specific investment, strategy, or plan.
Investment Products: ▸ NOT FDIC Insured ▸ NO Bank Guarantee ▸ MAY Lose Value
10-19 407982