Small Business
May 17, 2021
A symbol for the small businesses that have 'made a way' during the pandemic
Wells Fargo commissioned artists to design commemorative "Open" signs inspired by small businesses the company has supported.
As many entrepreneurs continue to face challenges during the COVID-19 pandemic, an "Open" sign has become a symbol of the hope, resilience, and grit of small businesses. Wells Fargo is celebrating how small businesses owners have made a way to stay open, in spite of all obstacles, with its new "We made a way. Together." campaign.
The campaign featured stories of small business owners and provides resources to help entrepreneurs, including information about Paycheck Protection Program, or PPP, loans and Wells Fargo's Open for Business Fund.
To amplify the stories of small business owners who have persevered, Wells Fargo has commissioned artists to design nine custom commemorative "Open" signs inspired by small businesses the company has supported. The signs are a creative twist with themes that speak to a variety of industries, including restaurant, photography, music, and entertainment. They are on the campaign website, and small businesses are invited to share their own stories across social media about how they "made a way" to stay #OpenForBusiness by tagging @WellsFargo.
"The sheer grit and resilience of small businesses over the last year has been inspiring, but it's clear that more needs to be done to help those hardest hit turn the corner," said Mary Mack, CEO of Consumer and Small Business Banking at Wells Fargo. "The impact of the pandemic was not evenly or equally distributed, and so to foster an inclusive recovery, we are deepening our commitment to small businesses owned by women and racially and ethnically underrepresented individuals by expanding access to capital, expertise, and long-term resiliency programs. We also challenge the public and private sector to join forces with us to ensure more entrepreneurs get back to thriving in their communities."
To support small businesses, Wells Fargo has provided about 277,000 PPP loans for small businesses, putting about 1.7 million small business employees back to work since 2020. Through its Open for Business Fund, Wells Fargo has donated roughly $420 million in grants to nonprofits that provide support for small businesses, with 84% of the grants supporting diverse-owned small businesses that have been disproportionately impacted by the pandemic.
Wells Fargo continues to support and celebrate small businesses like the ones below, who have received custom "Open" signs.
Precision Productions — Supporting a platform for creativity
Deborah Lee is an illustrator based in Brooklyn, New York, who left the tech industry to build a career within the editorial and publishing industries. One of the signs Lee designed was inspired by Precision Productions, whose owner hails from Trinidad and Tobago. After facing pandemic-related challenges while trying to launch a recording studio in Los Angeles, owner Kasey Phillips received a grant from nonprofit Pacific Coast Regional Corporation and Wells Fargo's Open for Business Fund, which helped with bills and payroll. Phillips has since pivoted to a hybrid in-person and digital studio, allowing him to streamline clients' revisions and have ongoing collaboration.
To depict the signs' origins and inspiration, Lee used vivid abstract and metaphorical imagery. "As an artist, it was rewarding to support not just a small business that stayed open in tough economic conditions, but one that's a platform for creativity," Lee said.
Roxtography — Keeping the business afloat
Sophia Yeshi, an illustrator and graphic designer who is also based in Brooklyn, designed signs for businesses including Roxtography. As the owner of Yeshi Designs, she creates work centered on topics she's passionate about like climate change, mental health, body positivity, and self-confidence. To create her "Open" signs, Yeshi pulled aspects into her art that would resonate not only with the featured business, but with other businesses as well.
Roxanne Best, a photographer, yoga instructor, stand-up paddleboarding yoga instructor, and consultant, owns Roxtography. When the pandemic began, much of Best's business was suspended. Best began teaching online classes to supplement her income and reached out to the nonprofit Northwest Native Development Fund, which provided her with a working capital loan, thanks to Wells Fargo's Open for Business Fund. With the loan and some grants, she was able to pay her bills and purchase new equipment to teach online and pivot her business.
"I was inspired by these small business owners' resiliency and ability to pivot, especially given that the COVID-19 pandemic forced many businesses to have to innovate to stay afloat," Yeshi said. "There's a lot to be learned from these business owners, proving that, even when you think you have it figured out, there's always room to grow to evolve."
PREP Atlanta — Prepared to pivot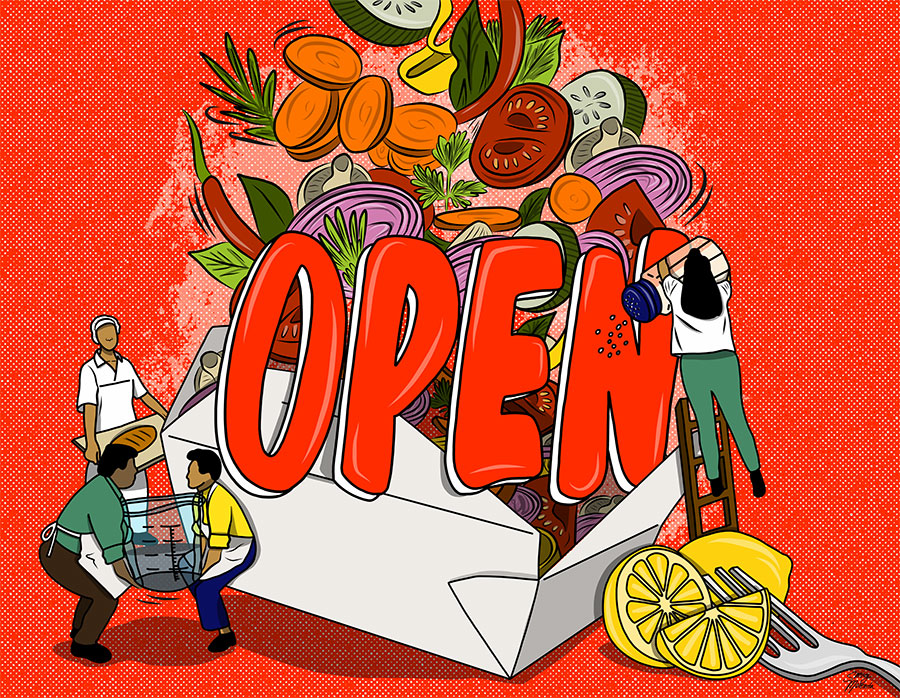 Gabriela Alemán is a visual artist, writer, and organizer born and raised in San Francisco's Mission District. Her work consists of boldly colored images that range from protest art to reimagined cultural iconography. To create her "Open" signs, Gabriela threaded the narratives of the featured small businesses and the joy that they bring to their respective communities.
One of the signs Alemán designed was for PREP Atlanta, which specializes in shared or private commercial kitchen space for food entrepreneurs and provides other services including procurement, marketing, and business development. When PREP Atlanta decided to expand out of state, it sought help from Wells Fargo, receiving $10 million in financing just as the pandemic began. Since the company was a part of the food supply chain, it was deemed essential by the government and able to stay open and help food entrepreneurs. Despite the pandemic, PREP Atlanta pivoted, signed up new members, and became critical to the survival of its members.
"I'm inspired by the continued ability of small business owners to sustain and keep their dreams alive through perseverance, grit, resolve, and — most inspiring — in community," Alemán said.